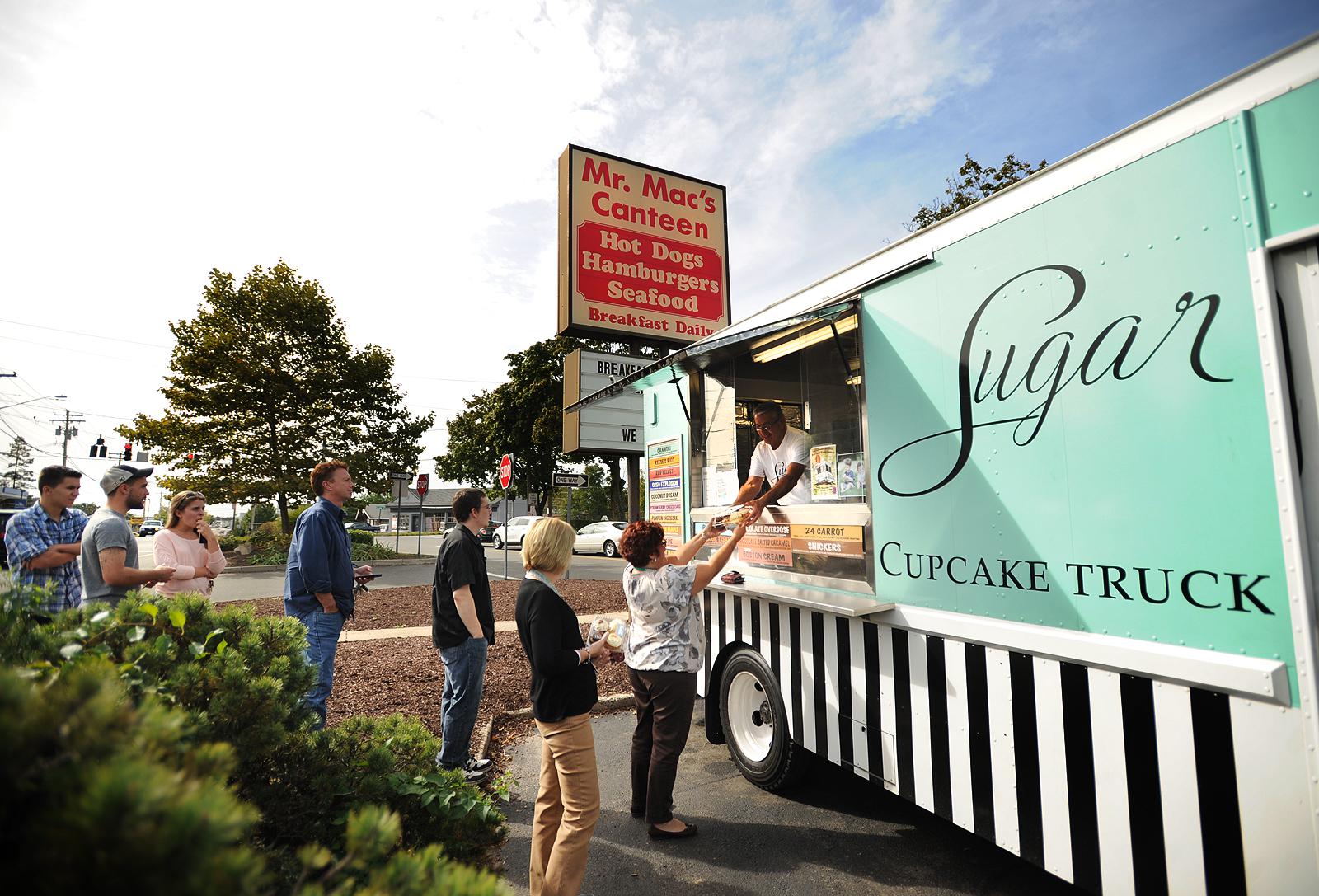 EAST HAVEN — Chalk up another loss to the coronavirus: East Haven's celebrated Sugar Bakery is retiring both of its Sugar Bakery cupcake trucks after providing rolling cupcake love on wheels to Greater New Haven and beyond for eight years.
Don't worry — the bakery itself, which customers say serves some of the tastiest cupcakes anywhere at 422 Main St., will remain.
"We've been holding off on sharing this news but feel the time has come," Sugar, a winner of the Food Network's "Cupcake Wars" TV show, said in a post on its Facebook page.
Sugar Bakery co-owner Brenda DePonte, who runs the bakery with her mother, Carol Vollono, said that it was a tough decision.
"It took a long time to come to that conclusion," DePonte said.
For years, Sugar Bakery — which has been known far beyond East Haven since winning Cupcake Wars in 2010 —has run two cupcake trucks, which provide more distant, traveling access to the bakery's award-winning cupcakes for people who can't easily get to Main Street.
"As we all know, life after COVID looks a lot different for many of us," the Facebook post says, and "in the end, the cost of holding onto (the two trucks) and keeping it up and running while festivals and walks are canceled, large gatherings are called off, office buildings are empty because many are working from home, school events are prohibited and so on kept bringing us to the same conclusion. It's time.
"We're so sad to be saying goodbye to an era but, at the same time, so grateful for the support the trucks have been shown over the past 8 years," it says. "Our 'stores on wheels' have allowed us to spread the Sugar love all over the state and we hope that those who are truck customers will find the time to visit us at the bakery.
"From the depth of our souls we thank you for your support," it reads. "Our Sugar Daddies sure are going to miss seeing all your smiling faces."
One truck sells cupcakes largely in three locations in New Haven: in front of the Superior Courthouse on Church Street, outside Yale New Haven Hospital and near the corner of Prospect and Sachem streets on the Yale Campus. The other travels farther afield, selling Sugar Bakery goodies at Connecticut fairs and festivals, at weekly concerts on local Greens and outside area office buildings and shopping centers, such as Clinton Crossing.
But DePonte said "it's quite expensive to keep the trucks up and running with permits" — Sugar needs three permits, at more than $2,000 each, for its three New Haven locations — and since the advent of COVID-19, many of the places the trucks have gone, including downtown New Haven, have fewer people around.
Most other area municipalities charge similar permit fees, she said.
Meanwhile, many of the office buildings that the second truck formerly went to have been closed, with employees working from home, DePonte said.
"The store itself, thank goodness, is wonderfully busy. So we made the decision to concentrate on the store," she said.
"I think the convenience of the truck was such a great thing for a lot of people…" DePonte said. "They basically were stores on wheels that helped spread the world that we were open…
"It's just sad," she said.
"We had a great run," DePonte said. "We were one of the first trucks out on the road" as the food truck craze broke out, she said.
The trucks have been driven all these years by DePonte's father-in-law, Michael "Dewey" DePonte, who drove the New Haven truck, and another driver, Lenny Caponera, with Brenda DePonte's husband, also named Michael DePonte, helping out.
"It was kind of like his idea," she said of her father-in-law.
Brenda DePonte said she now expects to sell the trucks, which each are outfitted with a hand-washing sink, two double-door refrigerators and a stainless-steel worktable — but no flat-top or other cooking equipment.
She thinks they would be great for a business that serves smoothies.
Source: Thanks https://www.ctinsider.com/news/nhregister/article/East-Haven-s-Sugar-Bakery-parks-its-cupcake-15425537.php