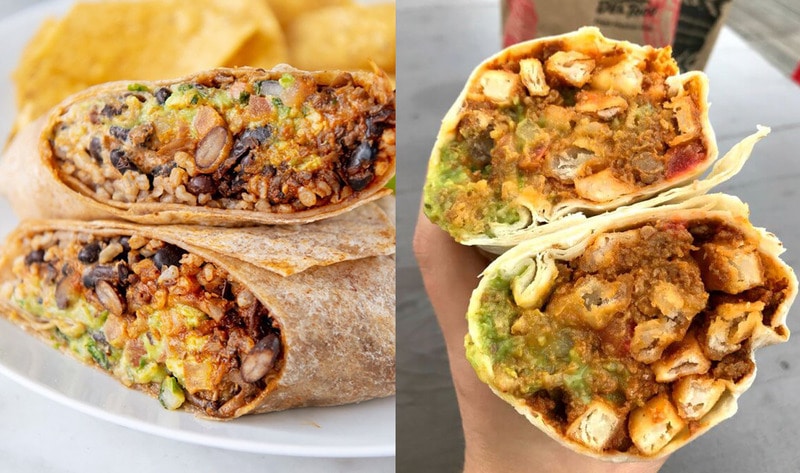 Mexican food has always been a relatively safe bet for vegans (assuming no lard or chicken broth is used to prepare the rice, beans, or tortillas). Today, most nationwide Mexican-themed chains carry at least one dedicated vegan option and some go above and beyond to ensure their plant-based patrons are satisfied. We scoured the public-facing and secret menus of America's most popular burrito chains to find which ones offered the best vegan options. Spoiler alert: it's not Chipotle.
1. Qdoba
As the largest chain that parallels Chipotle's assembly line-style, create-your-own meal model, Qdoba is a major contender in the vegan burrito space. It offers something unique that we've yet to see even in sit-down restaurants: Impossible Plant Based Protein. The Impossible patties are nothing new, but it's a treat to find this plant-based meat as a seasoned beefy crumble option. In addition to the vegan beef, patrons can load up their burrito with grilled fajita veggies, two kinds of rice, pinto and black beans, jalapenos, onions, tortilla strips, corn salsa, and an assortment of mild-to-severe salsas. This may be controversial, but we say Qdoba for the win.   
2. Pancheros Mexican Grill
We so often think of the filling when assessing the quality of a burrito, but at Pancheros, it starts with the tortilla. Each giant flour tortilla is pressed fresh to order using the DoughPro DP2000. Fill that with the chain's signature Tofusada, cilantro lime rice, seasoned-marinated veggies, guac, and salsa, and you've got a decent vegan meal—and very likely some leftovers.
3. Chipotle 
On the off chance you haven't memorized the Chipotle vegan options, here's the run-down: Choose from tofu-based sofritas or straight veggie for your protein option (note: guac is complimentary with the veggie but extra with the sofritas). Next, choose from brown, white, or cauliflower rice. Add black or pinto beans (or both), then layer on the salsas, romaine, and fajita veggies. Some variation of these ingredients has sustained vegans for well over a decade, and we'll continue to rely on this chain for years to come. However, we still wish to put a little fire under this company to continue to innovate. Vegan cheese, please!
4. Moe's Southwest Grill
This off-center, music-themed Mexican joint boasts over 700 locations in the United States and abroad, and while there aren't quite that many vegan options, the chain definitely has its vegan customers in mind. The dedicated vegan menu offers three options—a burrito, a taco, and a salad—but it's easy to customize your epic tortilla handhold with over a dozen plant-based ingredients at your disposal. The basic vegan burrito consists of a whole wheat tortilla stuffed with black beans, romaine, pickled red onions, grilled onions and peppers, pico de gallo, and jalapenos. We highly recommend adding organic tofu for more of a "meaty" filling. You can also add in seasoned or cilantro lime rice, quinoa, cilantro, corn pico, chopped cucumbers, diced tomatoes, grilled mushrooms, and black olives for a burrito bursting with goodness. Watch out, Chipotle, Moe's is coming for you. 
5. Wahoo's
Ignore the fact that the full name of this chain is Wahoo's Fish Tacos. Despite the giant fish in the logo, it does a solid job of serving its vegan customers. The menu works a little differently here—it's part customization, part predetermined. First, choose your protein; the vegan default is an excellent homemade sautéed tofu. Next, choose your menu item. We're sticking to burritos here. There's only one naturally vegan option—the Banzai Burrito—but it's so outstanding we had to include this chain. This fresh, plant-based wrap is stuffed with tasty tofu, rice, beans, salsa, and Wahoo's signature Banzai Veggies. It's nothing fancy, but the flavors are divine. Full transparency: we've enjoyed this burrito more than once a week. 
6. Del Taco
Del Taco has won us over simply by providing vegan-as-is options. The Epic Beyond Original Mex Burrito stands as the largest burrito on the menu, and it's intentionally devoid of any animal products. The one-pound, foil-wrapped handhold is stuffed with Beyond Meat beefy crumbles, slow-cooked beans, guacamole, cilantro lime rice, and pico de gallo. Considering it came out of a drive-thru window, we couldn't be more impressed.
7. Freebirds World Burrito
This monster burrito chain has scaled down in recent years. It's appropriate that the vast majority of its remaining locations are limited to Texas—the state known for its larger-than-average options. At Freebirds, you can order a burrito literally as long as your forearm. Four other size options precede this colossal handhold: The Little Guy, Freebird, Monster, and Super Monster. Fill your choice of a flour, spinach, or whole wheat tortilla with grilled vegetables, three varieties of rice, black or pinto beans, homemade salsa, mixed greens, diced onions, guac, and roasted garlic. The chain used to offer Beyond Meat crumbles as a filling option, but have since eighty-sixed this menu item. For that, we're docking it a ranking.
8. Taco Bell
Unlike most burrito chains, the vegan options at Taco Bell eat more like a snack than a meal. After taking away its vegan core sustenance—potatoes—this past summer, the kitchen leaves much to be desired in its limp burritos. The most vegan customers can hope for is a bean burrito with rice, pico de gallo, guac, and fast-food-quality lettuce. Sure, sometimes a plain bean burrito can hit the spot, but if you're looking for something with staying power, seek out another chain. 

Tanya Flink is a Digital Editor at VegNews as well as a writer and runner living in Orange County, CA.
Please support independent
vegan media and get the very best
in news, recipes, travel, beauty, products,
and more.
Subscribe now to the world's #1 plant-based magazine!
Subscribe
Source: Thanks https://vegnews.com/2020/9/8-vegan-friendly-burrito-chains-ranked