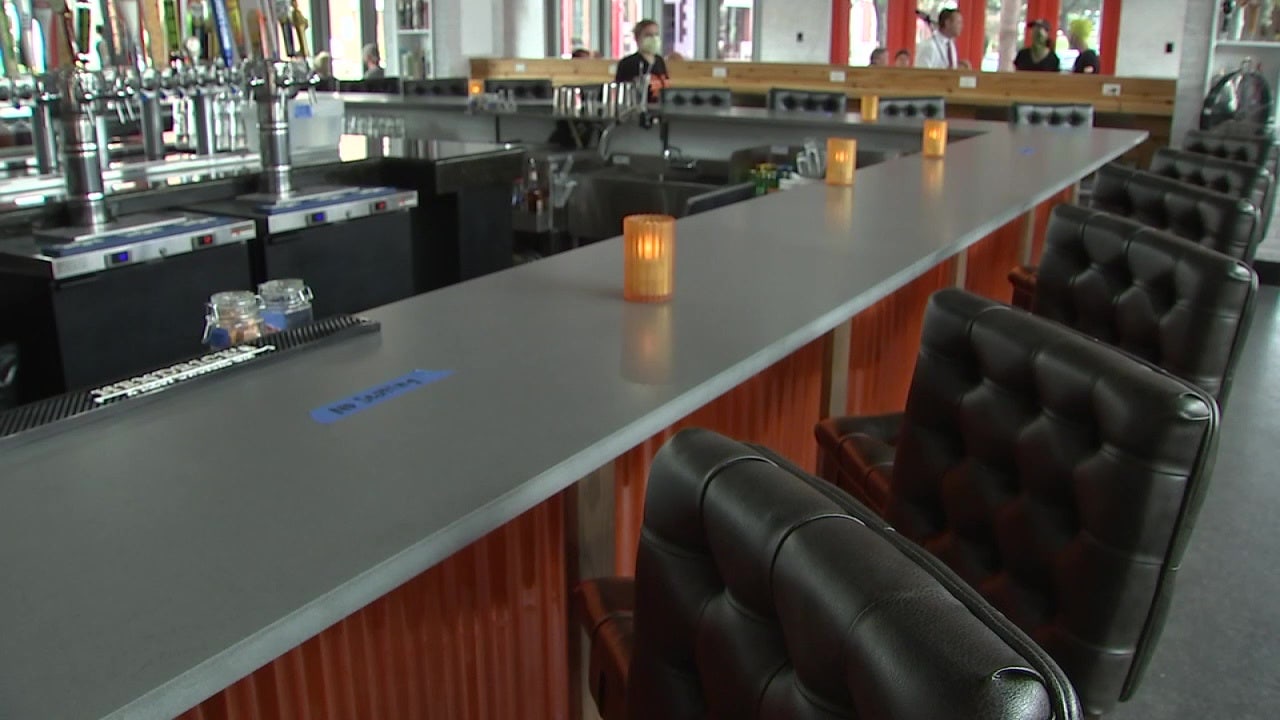 ST. PETERSBURG, Fla. – Effective immediately, and in time for the weekend, restaurants can operate at full capacity, regardless of local government rules, as the state moves onto Phase 3 of its reopening plan, the governor said Friday. 
Gov. Ron DeSantis made the announcement from The Birchwood, a St. Pete hotel which includes a restaurant and popular rooftop bar. He said Phase 3 means there will be no limitation on restaurant cpacity, and can operate at a minimum of 50% capacity, even if there is a local restriction.
"Every business has a right to operate… you can't just say 'no' after six months and have people twisting in the wind," he said.
DeSantis also said municipalities must justify limiting restaurant capacity below 50%, adding that restaurants cannot be forced to close.
"They have to provide justification, and they have to identify what the costs of doing that are," DeSantis said.
The governor hinted at ending the capacity restriction on Thursday, saying while he understands there is a chance of a spread of the coronavirus, "we can't have these businesses dying."
"I don't think that the closure of restaurants has proven to be effective," DeSantis said Thursday. "I get how you could potentially have spread there. … But we can't have these businesses dying. So, they're not going to be able to be closed by locals anymore. And they will be able to operate at the capacity that they're comfortable with."
PREVIOUS: DeSantis takes aim at local restaurant restrictions
He said Phase 3 doesn't change much outside the hospitality industry, since most other businesses have reopened across the state.
This month, Florida allowed bars to once again serve drinks for on-site consumption. During the pandemic, they were forced to close twice, but were allowed to reopen Sept. 14 with an indoor capacity at 50%.
Before that, some bars and breweries had to obtain a food license, and act as restaurants in order to reopen. Some put out menus for quick items, like hot dogs and Hot Pockets.
On Monday, DeSantis announced sweeping legislation to crackdown on violent protesters, and stiff criminal penalties for actions such as blocking roadways, disrupting restaurants or toppling monuments. 
"You see videos of these innocent people eating dinner and you have these crazed lunatics just screaming at them and intimidating them on a public accommodation," DeSantis said that day. "You aren't going to do that in state of Florida."
RELATED: Florida governor introduces legislation with harsh penalties for disorderly assemblies
Before his announcement, DeSantis commented on the confrontations by protesters that recently occurred just a few doors down from The Birchwood.
On Wednesday, following the grand jury's announcement in the Breonna Taylor case, protests erupted throughout the country, and in St. Pete. A group of protesters were seen on video outside a restaurant that appears to be Parkshore Grill.
Some were seen involved in a confrontation with a couple eating dinner. Two protesters sat down on their table and the woman says, "This is my table," and tries to unseat one of them. The footage was just over a minute long.
"What we saw here in St. Petersburg the other night with mobs harassing innocent people," DeSantis said. 
Another video, nearly 20 seconds long, showed protesters blocking a nearby street.
Both clips, recorded by the Tampa Bay Times, are short. It doesn't show what preceded the confrontations or what occurred after the cameras stopped rolling.
Source: Thanks https://www.fox13news.com/news/florida-ends-restaurant-capacity-cap-moves-onto-phase-3-of-reopening