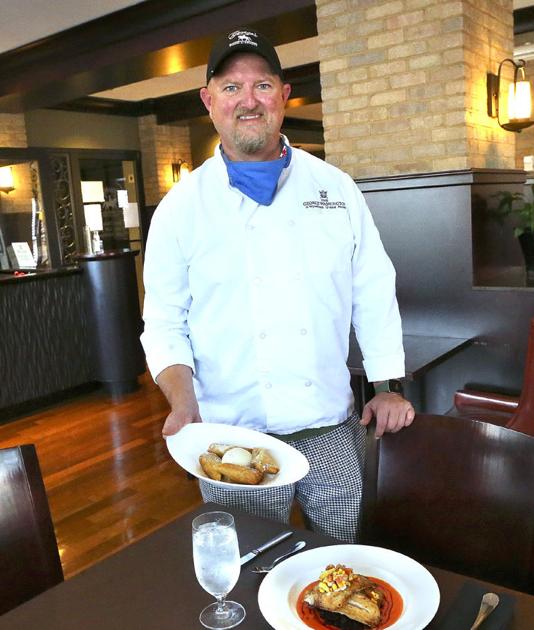 WINCHESTER — Taking over as executive chef of George's Food & Spirits inside the George Washington Hotel after the restaurant was shut down for about six months for the COVID-19 pandemic is like starting from scratch, Will Mason said.
But Mason, who previously owned eM restaurant on Boscawen Street, said he's grateful for the chance to tackle the venture for the hotel.
"It's interesting. It's pretty much like opening a new restaurant. We had to bring in all new products, do a new menu and train everyone on the service of the menu and the staff in the kitchen on preparing the menu," said Mason, who was hired about a month ago and on Friday had just finished up his third week on the job. "Everyone had basically been off for six months."
The George, as the restaurant is often called, reopened about a week ago after COVID-19 had kept it closed since the middle of March.
The restaurant is open from 6:30 to 11 a.m. for breakfast and from 5 to 10 p.m. for dinner Wednesday through Sunday. The hotel's bar, The Half Note Lounge, has also reopened and is open Tuesday through Saturday from 4 to 11 p.m. Food is served in the bar until 10 p.m.
"We're delighted after six months to have our doors open, for sure," said Suzi Smith, the hotel's general manager. "And we're thrilled to have Will here to open for us."
Mason, a 1990 graduate of Handley High School, wasn't always planning on becoming a chef. He started working in advertising and marketing out of college, but when some of his friends began opening restaurants he decided to invest in one.
He later found himself spending more and more time around the kitchen and decided to quit his "real job." He took culinary classes at Johnson & Wales University in Norfolk two nights a week and on weekends before entering into the business himself.
Mason said he enjoys the creativity and the feedback that comes with cooking.
"And for all of us in the kitchen industry, there's no better feeling than having someone say, 'That was fantastic,' or 'That was the best steak I've had in a long time,'" he said.
Oftentimes, some think of all chefs being like hot-headed British chef and TV personality Gordon Ramsay. But Mason said that's not the case in his kitchen.
"I think the days of the big, yelling chefs are gone. You can't do that in kitchens. You want everything done properly, but you can't berate people — a hint here, a suggestion there probably goes a lot longer than slamming your sauce pan down," he said. "That just doesn't fly in kitchens anymore."
Working relationships, he said, are critical, and Mason said he's always taken that to heart and never put himself above others while leading a kitchen.
"In every aspect of my life, I've never been exceptional, but I've surrounded myself with really good people. The better people you have around you, the better you are at what you do," he said. "I've always tried to find people with the spirit and foresight to say, 'Hey, let's try that.' If you give people in the kitchen some freedom and the opportunity to suggest things, they're far more inclined to be involved and take pride in what they're doing."
At The George, Mason said he's been given plenty of freedom to keep those ideas flowing and to craft the menu as he sees fit using fresh products to create made-to-order menu items.
He said that's a "chef's dream."
"To have that freedom is absolutely fantastic. That's one thing that every chef desires, the ability to craft and design as they see fit and to present it as they see fit," he said. "When you're working with fresh fish and fresh produce, it's neat to have the option for creativity to do with it what you want."
When creating menu items, Mason said it's less about what he likes to cook and more about what he thinks guests will enjoy and what will sell.
That, he said, is something he's learned along the way in his 20-plus years in the industry.
What's more, Mason said, is the fact that he's now in a well-known location where guests have already come to expect top-notch quality. He said it's his duty to provide that as well as continue enhancing the hotel's reputation.
"This is such a beautiful space — the hotel as a whole. This is a dream for a chef," he said. "I'm really looking forward to get guests through here. What better place to sit down and enjoy a meal."
Source: Thanks https://www.nvdaily.com/nvdaily/a-new-chef-takes-over-as-the-george-reopens/article_f7465678-cadf-53b4-a519-1016530c17d7.html