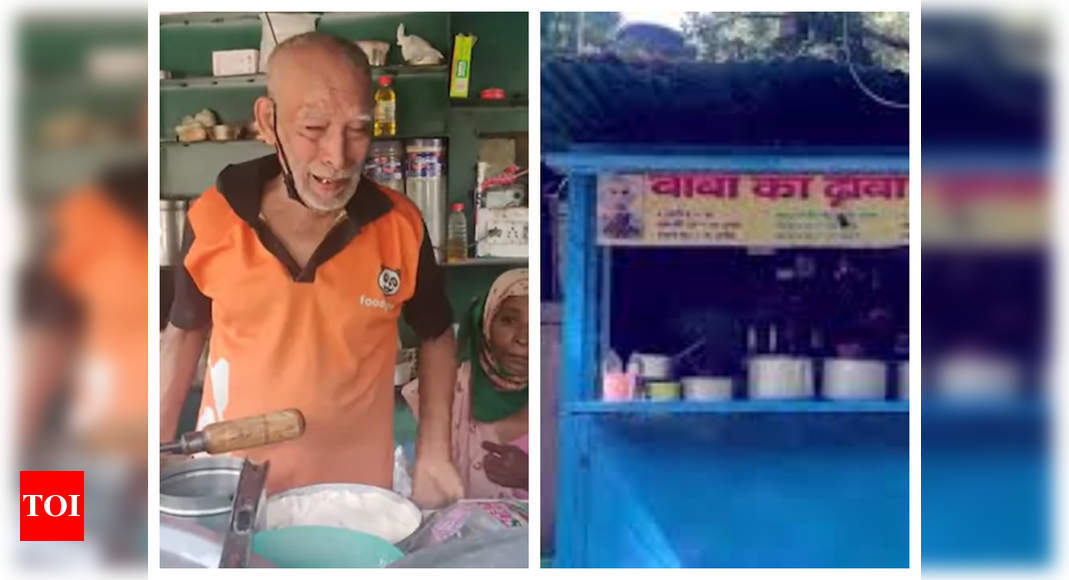 A recent video is making rounds over the internet and touching netizens to their very core. The video, shot on October 7, shows an old street-side food vendor in tears because of running in losses due to the pandemic. The video was originally released on a Facebook page called 'Swad Official' and shows an elderly couple, almost 80 years of age, selling food in Malviya Nagar, New Delhi out of their stall called "Baba Ka Dhaba".
In the video, the man identifies himself as Kanta Prasad and tells that he has been running the food joint along with his wife since 1988. Upon being asked that what all does he sell, Kanta humbly replies "dal-chawal-sabzi" (lentil, rice, and curry). As the video progresses, he tells that even micro quantities of food like 750 gm. rice, 500 gm. lentils, a fresh curry of potato and soya bean, and 'matar paneer'—are unsold even after a hard day at work. When the videographer questions him about his earnings till that time in the day, Kanta turns around, opens a drawer, and presents a few ten and twenty rupee notes. Finally, the clip ends with the videographer appealing to the people of Delhi to come forward and help the struggling couple.

Within no time, the video went viral across various social media platforms and captured the attention of the citizens of Delhi. As it spread across Twitter, the video of a teary-eyed Kanta and his wife, reached Indian cricketer Ravichandran Ashwin too, who commented and queried about how he could help the couple. By the end of October 7, the video caught the attention of many famous personalities and celebrities.
October 8 brought a ray of hope, brightness, and happiness for Kanta and his wife. The story of how honest and local businesses have been affected by the COVID-19 pandemic moved everyone, the result being latest photos coming in from 'Baba Ka Dhaba' where almost a hundred people are waiting to be fed! The stall could be seen surrounded by various media personnel seeking to cover the story of Kanta and his wife. Even the well-known advocate Somnath Bharti visited 'Baba Ka Dhaba' and posted that he will be taking care of the couple and will start a similar drive to help people in a similar plight.
Soon a 'before and after' photo of Kanta started to spread on social media. On the left-hand side is the photo clicked on October 7, where he could be seen teary-eyed and hopeless. However, on the other side, which is a photo clicked a day later, Kanta and his wife could be seen laughing from ear to ear, and full of faith!
The story of Kanta, his wife, and 'Baba Ka Dhaba' is the story of many people and local businesses that were affected by the COVID-19 pandemic. The video of his plight and how people came forward to help is a ray of hope for many others who seek just a helping hand and little support. Come, let's take a step forward to support and care for people in need.
Source: Thanks https://timesofindia.indiatimes.com/life-style/food-news/delhi-joins-hands-to-support-octogenarian-couple-selling-food-after-the-video-of-their-plight-becomes-viral/articleshow/78552024.cms