NEW DELHI: If you want to start a business in food products, it would serve you well to look at the farm/animal/marine product-specific map with insights into the speciality of that district and the support which you may get from the government as a food processing entrepreneur.
The agriculture ministry under 'One District One Product' (ODOP) approach has finalised 135 district-specific unique products for 728 districts across the country, identifying each of them with certain agricultural, horticultural, animal, poultry, milk or marine products.
Though there are some familiar names of district-product combo in the list such as oranges of Nagpur, grapes of Sangli, litchis of Muzaffarpur, the comprehensive list dedicates 60% of total 728 districts to fruits (226 districts), vegetables (107) and spices (105). In contrast, foodgrains such as paddy (40), pulses (16) and wheat (5) found place in quite a small number of districts across the country even as they are produced widely.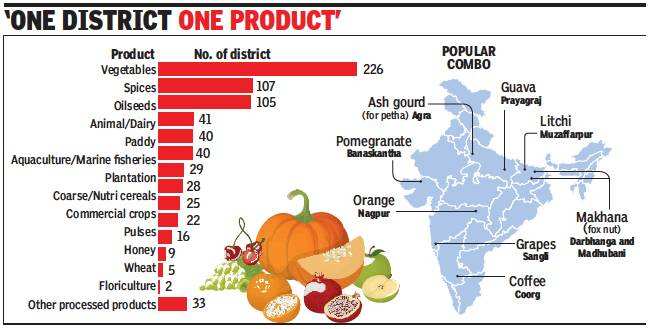 It can be attributed to the need for processing and support which the listed products may require for value addition, keeping in view brand building and export promotion of local produce. The list of products has been finalised after taking inputs from the states and Indian Council of Agricultural Research (ICAR), focussing on existing clusters and availability of raw materials.
"These products will be promoted in a cluster approach through convergence of the central government schemes to increase the value of the products with the ultimate aim of increasing the income of the farmers," said Shubha Thakur, joint secretary in agriculture ministry, in a note to chief secretaries/administrators of states.
These district-wise identified products will be supported under the PM Formalisation of Micro food processing Enterprises (PM-FME) scheme which provides incentives to promoters and micro-enterprises. The scheme adopts ODOP approach to reap benefits of scale in terms of procurement of inputs, availing common services and marketing of products.
"The state governments are accordingly requested a plan for implementation of the programme which can benefit farmers and provide support for realizing the expectations of value addition and subsequently enhancing agri export," said Thakur.
Besides the popular district-product combo, the comprehensive state-wise list shows names of products which may not be known outside but have been quite popular locally due to traditional usage and business around it.
"The identification of products has also been done with focus on intended diversification of crops in mind. If you look at the list of Punjab and Haryana, you won't find the two most popular foodgrains — paddy and wheat — among farmers. The list mostly carries horticultural produce which requires help for creating a robust supply chain and processing/storage infrastructure," said another official.
List for Delhi shows focus on bakery, ready-to-eat products and milk-based products whereas Mumbai's list mentions marine products, Bengaluru has poultry and bakery products and Hyderabad has ready-to-eat snacks.
The PM-FME scheme, launched as "Atmanirbhar Bharat Abhiyan" package last year, will also take forward the existing 'Operation Green' plan from TOP (tomato, onion and potato) to total (all fruits and vegetables) by extending support to producers of such crops.
Source: Thanks https://timesofindia.indiatimes.com/india/in-bid-to-boost-food-industry-govt-maps-products-unique-to-districts/articleshow/81251955.cms