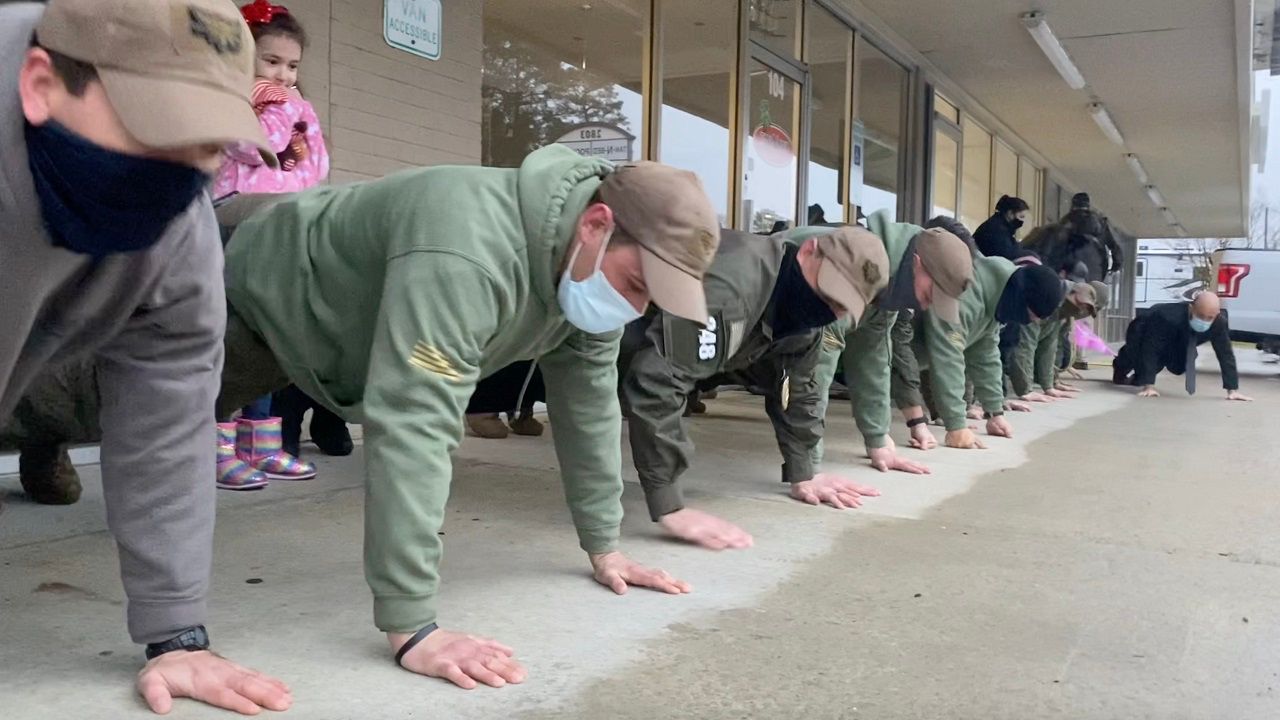 GREENVILLE, N.C. — First responders are heroes when it comes to helping other people. However, their service has a price, and they often ignore the warning signs of their own mental health. The lack of support due to COVID-19 has led to a sense of isolation.
Gregg Green is trying to change that.
"As a community we are trying to get ahead of it. I believe that suicide is a progression, it's not a destination. And so we are trying to figure out what are some ways that we can stop that progression," Green says.
Each weekday in February, just after sunrise, Green can be found on the sidewalk outside his bakery, Great Harvest Bread Company in Greenville. He does 28 pushups every morning. One for each percentage of rise in first responder suicide rates over the past year.
"Pushups stink," Green says. "No one likes doing it, but the symbolism is also profound. You are face down, nose down in the dirt, and you have to push yourself back up."
Green used to be a suicide prevention officer in the Army. After returning from Afghanistan, he recognized how significant an issue suicide was, especially for people like veterans and first responders who have to deal with so much tragedy. Now, Green wants them to know that they are not alone.
"We are here. We see you. We care about you, and there's an army of people who will show up for you if you need us," he says.
Green put up a poster in the bakery where people can honor the memories of those they have lost to suicide.
"I believe that a loved one is never truly lost until their name is spoken for the last time," Green said.
Asher Rosinsky, Joe Hooker, and Mauro Mele Jr. are just a few of the heroes who are remembered here.
Each morning, Green nominates a specific group in Greenville to join him in his workout and raise awareness for suicide prevention. Earlier this month, the Greenville Police Department accepted the challenge. Captain Tara Stanton says that emergency personnel respond to suicide calls on a daily basis. These calls can add up and be very emotionally taxing.
"There's unfortunately a stigma that comes with asking for help, especially when it deals with your mental health. It's police officers, first responders, doctors, nurses, everybody has a role, but they also need to understand that that first role needs to be self care, and that asking for help is not a sign of weakness," Stanton says.
Green is also establishing a local fund through CarolinaEast Medical Center called the Live Generously Fund. All the money donated in February will be set aside for 100% confidential mental health care for first responders.
"Nothing good happens in isolation. So this is our way of saying, you know what we're going to come up together as a community. That we may be social distancing, but there's still ways to care. There's still ways to be connected, and no one is truly alone," he says.
If you or someone you know is struggling with thoughts of suicide, call the Suicide Prevention Lifeline at 1-800-273-8255.
Source: Thanks https://spectrumlocalnews.com/nc/charlotte/news/2021/02/27/local-bakery-raises-suicide-awareness-with-pushups