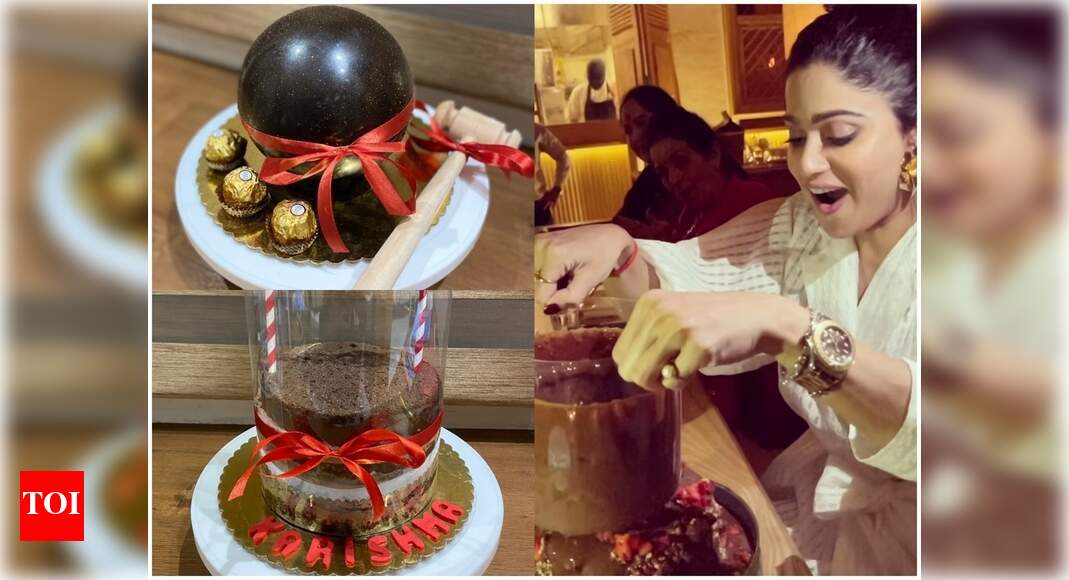 Messy is the new fancy when it comes to cakes these days. Gone are the perfectly shaped and chiseled cakes adorning tables at weddings and birthday parties. Today, people prefer 'em smushed, cracked, liquidy and in shambles! Even celebrities have accepted the trend with open arms. On her sister Shamita Shetty's birthday, Shilpa Shetty Kundra got her a 'Tsunami cake' to make the day err…(im)perfect in every way! Take a look at the mess that is trending…
Let it flow!
Popularly known as the Tsunami cake or Pull-Me-Up cake, it's defined by its messy icing. Baker Paridhi Motwani, who has been making several of these for all types of occasions, shares, "It is actually the simplest of cakes to make, despite its grand appearance. First, a cake of the preferred flavour is enclosed in an OHP sheet. The liquid 'icing' (like vanilla liquid cream, hot chocolate ganache or chocolate sauce) is then poured over the cake just before cutting it. Once the entire liquid is poured over, the OHP sheet is pulled upwards, which allows the liquid to flow out like a tsunami of flavours."

She shares that while most prefer chocolate ganache or sauce, some more jazz is added to kids' celebration cakes in the form of glitter, chocolate shavings, sprinkles or marshmellow.
Fault in our cakes
The Japanese got it right – beauty lies in imperfection. This philosophy is adopted to create a 'faultline' while making two or three-tier cakes. Sameer Manglani, who owns a baking studio in Pune, explains, "The sponge part of the cake is decorated the usual way, but on the sides, we get a little messy – as though the baker's hand was shaking or was pushed during the process. This gap or fault line is then decorated with a starkly different coloured icing, so that the imperfection stands out. This sort of a cake is a hit at anniversary celebrations."
Smashing cakes for the surprise

The Piñata cake is another fav in the messy genre. Confectioner Rakshita Mehta says, "These days, people do not like much icing on their cakes. The piñata cake provides them with the perfect excuse to have something different yet fancy at their dos. The outer covering of these cakes is made with any kind of chocolate – be it white or dark or any other colour they want. These cakes come with a hammer, and the person has to smash, rather than cut, them." Inside the shell, there's usually a sponge or cream cake. Heart and globe-shaped piñata cakes are most in demand.
Some other messy trends
–
Eating the cake with a wine goblet: A popular concept at wedding and anniversary celebrations in the West
-Smashing cakes for baby-related celebrations: Yet another popular trend in the west, where parents let their babies smash and smear cakes on their faces , and well, everywhere else.
Source: Thanks https://timesofindia.indiatimes.com/life-style/food-news/welcome-to-the-era-of-smushed-and-messy-cakes/articleshow/81276167.cms