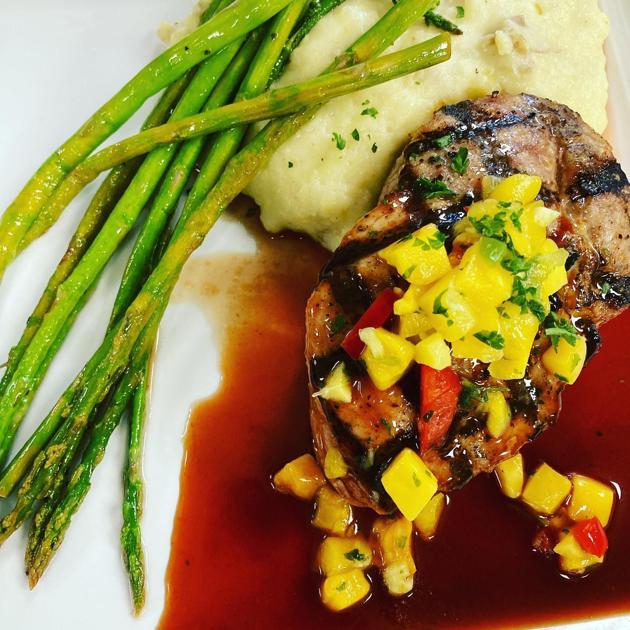 Queen St. Grille is welcoming Chef Sergio Martinez to its kitchen and the community.
Martinez has brought new life to the restaurant with an array of unique culinary delights for food lovers to enjoy.
Martinez grew up working in kitchens, learning the entire food trade from the lowest of positions to the top, even owning his own restaurant.
With a degree from the Culinary Institute of America in New York, he not only has the skills to manage Queen St. kitchen, but to also develop new dishes and specialty fare for its menus.
The new chef's parents came to America from Argentina and brought with them a culture that celebrates food made with only the freshest of ingredients.
For Martinez, food is his gift to the world. Cooking from the heart, with love, he said he believes that a happy attitude and atmosphere makes the food taste better. He loves making his customers happy with delicious food.
"It is the biggest compliment when customers leave happy," Martinez said.
The meal concept at Queen St. has always been "made from scratch" menu items with fresh vegetables and meats cooked to perfection and complemented with the perfect sauce.
In fact, for Martinez, the secret to any great culinary dish, is the sauce.
"You can go to many fine dining restaurants and get a great steak, but it's the sauces and combination of spices and ingredients that make it unique," Martinez said.
"Chef Sergio makes beautiful sauces, they are delicious," said Jean Mollard, owner of the Queen St. Grille.
Martinez is being assisted by Chef Joe Massa of Athens. Massa has a strong background in seafood.
"We make a great team," Martinez said. "Between the two of us, we have over 70 years of experience."
Queen St. is now open for lunch and dinner, with Massa as the lunch creator.
"We still offer our usual, fresh food menus with specials offered almost every meal," Mollard said.
The two have worked together to refine the restaurant's lunch menu to feature traditional local favorites with unique flare. Patrons are encouraged to try Massa's pecan smoked salmon.
As a salute to Palestine, Mollard and her team have established a menu that pays tribute to the community culture and history, including railroad-themed entrees.
New beverages have also been added to the menu. There are train-themed cocktails, like the Midnight Express, and beer flights that feature Independence Native Texan, Wild Acre Texas Blonde, Martin House Bockslider and Deep Ellum Easy Peasy IPA. There is also an array of wines to complement and enhance your fine dining experience.
Mollard noted the Queen St. Bar has a train theme and a comfortable, cozy environment.
"Cocktails are created regularly with new styles and trends. This month we are serving Texas beers in a beer flight of four, so you can pick your favorite."
The new Queen St. duo is looking for ways to celebrate and uplift the community with special dinning events as well as taking part in events like the Hot Pepper Festival.
They have plans for special holiday menus that will reflect local, traditional dining and they believe the restaurant's annual New Year's Eve event will be the biggest one yet.
Queen St. Grille is open for lunch 11 a.m. to 2 p.m. Tuesday through Friday and for dinner from 5 p.m. to 9 p.m. Tuesday through Saturday. It is available for meetings and private party events with a separate meeting room.
The Queen St. Bar is open 4 p.m. to 9 p.m. Tuesday from Saturday.
Source: Thanks https://www.palestineherald.com/community/new-chef-in-town/article_34631a6e-1802-11ec-ad88-bbe89e5f7f4e.html