Rebel Foods, which operates the brands Behrouz Biryani and Ovenstory Pizza, calls itself an 'internet restaurant.' The company became a unicorn this month after a $175 million fund raise took its valution to $1.4 billion. CTO Amit Gupta says the company, present in over 60 cities across 10 countries, does not have a 'chef.' They have trained staff who know how to run the automated process to get the falafel, biryani, pizza or fried items exactly right – the same consistency 99% of the time. They have machines that prepare noodles and falafel, fry rice, adjust time and temperature as per the requirement of each dish, and measure temperature and size of the final dish. At the end of the process, a machine scans the dish to decide whether to accept or reject it. All this technology ensures the cooking process avoids human errors, and enables rapid scaling.
Tech in the food business has mostly been around building products for menu or restaurant discovery, or food delivery and reservation. Companies such as Rebel, Gupta says, are "disruptors," focussing on using tech in food preparation.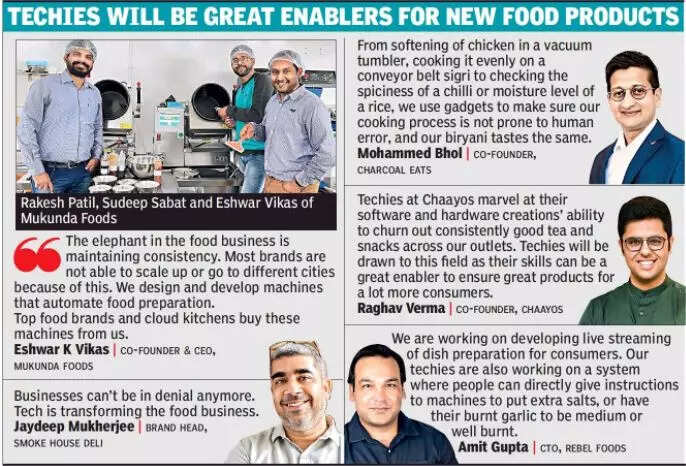 Raghav Verma, an IIT alumnus and co-founder at Chaayos, says they made a decision early on to run a business where tech meant more than a mere app to order. For him, a "full stack" approach meant automating the process from the tea leaves to the final cuppa at the outlet.
While Chaayos has been using tech to streamline the supply chain, and AI/ML to enhance customer experience by analysing their previous orders, the biggest star is the patented IoTenabled bot called Chai Monk that replicates the process of handmade chai. Chai Monk knows what quantity of tea, milk and water at how many boils will give a perfect chai. "This machine makes 400 teas a day at each outlet. What you get now is absolutely the same tea across all our 102 outlets," Verma says.
Eshwar Vikas, co-founder and CEO of Mukunda Foods, and his team of 150 are building kitchen equipment that run on Android platforms for the biggest food brands in India. These equipment learn from chefs, and implement actions such as priming meats, flipping paranthas, and making pizzas. The equipment knows how fast to toss or stir, when to add what and how much, and how long to cook at what temperature. Such equipment will be particularly useful in cloud kitchens, which are these large commercial facilities purposebuilt to produce food specifically for delivery. Cloud kitchens are emerging rapidly in India. "Each of these kitchens will need at least $10,000 worth of smart kitchen equipment. The food industry needs techies who understand hardware, those who can create smart appliances, kitchen robotics," Vikas says.
Mohammed Bhol and Mikhail Sahani, chefs-turned-entrepreneurs at Charcoal Eats, dish out over 55,000 biryanis a month from their 30 stores. The pungency of the chillies, ginger and garlic, the flavour of spices in different seasons, and even the length, colour and size of grain can change the complexion of their dish. Charcoal Eats uses tech tools to measure the spiciness and pungency levels of their ingredients. The tools are not very different from the one that is used to, say, measure diabetes. "We don't need a chef," says Bhol. Tech, he says, helps them replace art with science. "Any of our professionals can prepare a consistently tasty biryani," he says.
Chef Jaydeep Mukherjee, brand head at Smoke House Deli, and who supports cloud kitchen development at Impresario Handmade Restaurants, says they use tech to record the entire cooking process, make a note of parameters to follow such as the size of ingredients, what RPM (revolutions per minute) to run the machines on, how much salt is needed in each dish, the temperature and time of cooking. Once this is done and locked in the machine, then scaling up is merely a matter of duplicating this.
Rebel Foods' Gupta, a techie who shifted from fintech to food tech, says engineers love solving problems. He bets food companies will be a huge playground for techies as modern kitchens emerge. Verma of Chaayos already has a tech team of 25, and plans to increase this to 50 in six months. He is looking for full-stack developers, specialists in devops, product & data, Java (for backend), React and React Native (for frontend), Android and iOS.
Will technology eliminate the chef? Everyone believes products will always need to be built with passion and soul. Science will imitate the artist, but an artist will always be needed for techies and machines to learn from.
Source: Thanks https://timesofindia.indiatimes.com/business/india-business/how-software-robots-are-preparing-the-food-we-order/articleshow/87149057.cms