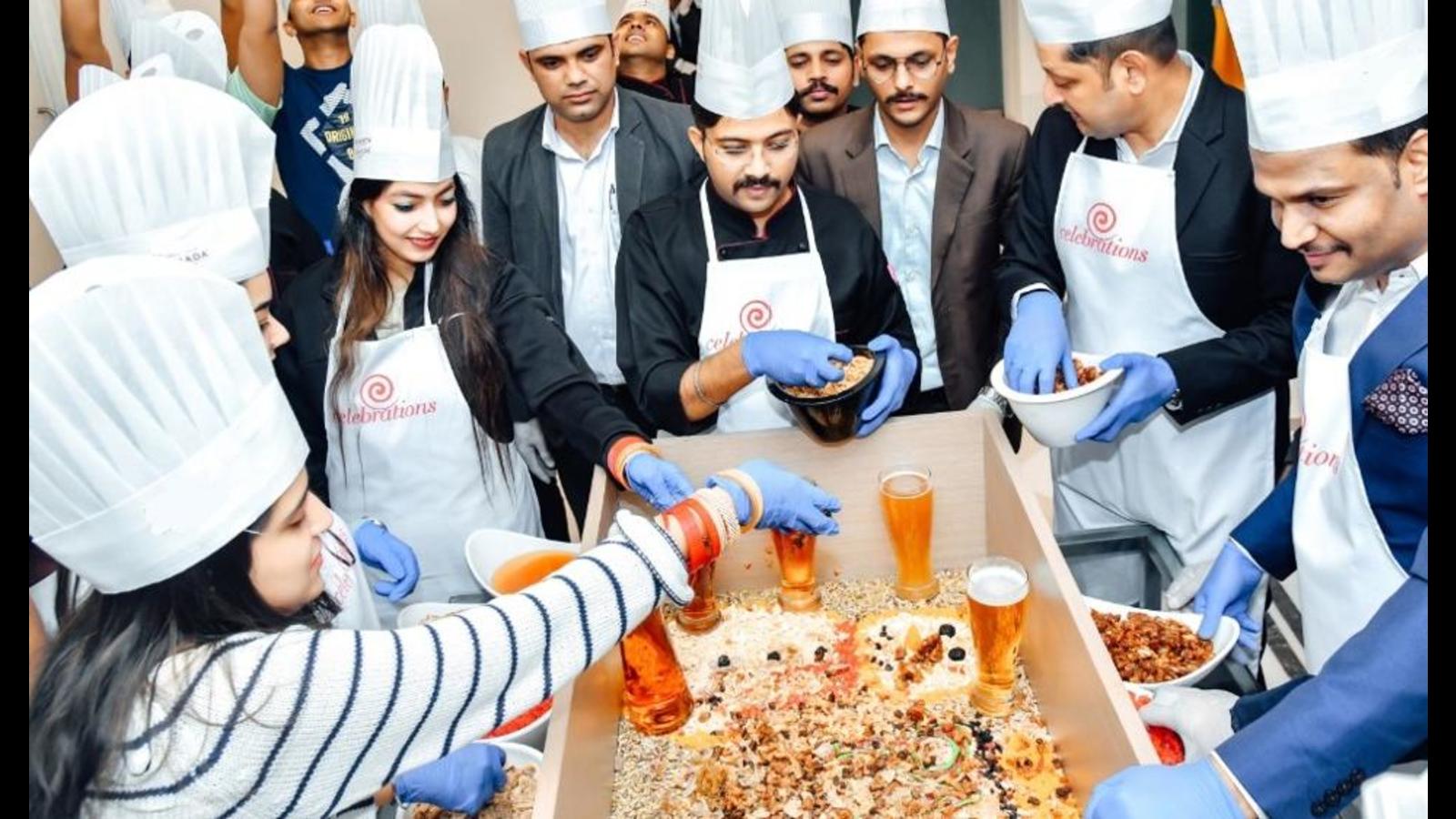 We are still a few weeks away from Christmas but the resumption of annual cake mixing ceremonies in physical format has surely kick-started the Yuletide celebrations in the city. After a hiatus of two years intoxicating aroma of rich tradition is back where dry fruits, candied fruit and festive spirits together is mixed to get a perfect dough preparation before baking it into cakes, breads and puddings.
With Covid protocols in place and fully vaccinated guests, a number of live cake-mixing ceremonies are being witnessed at different city hotels, bakeries and lounges. An opportunity to make the patrons happy and create a Christmas buzz, these cake mixing ceremonies happen across the globe and Lucknow too is witnessing the same trend from last few years.
"It's a tradition and opportunity for us to engage some prominent customers, influencers and bloggers to spread the festive spirit. We engaged selected guests for a brunch and ensured that everyone is fully vaccinated. In the run-up to Christmas, we are planning multiple events including preparing city's biggest ginger bread house where these cakes will be up for sale," says Neeraj Kataria CEO Sky Glass Brewing Co.
Similar ceremony at Ramada Lucknow located at city outskirts saw people driving down the venue to attend the mixing festivity.
"Cake mixing has become a significant ritual and is considered as an occasion that one looks forward to. Guests and colleagues get together to mix the ingredients of delicious Christmas cakes. An array of nuts and spices were poured into a huge mixing tray. The mixing became all the more fun when endless bottles of liquors, fruit juices and syrup was added to the blend. Our Chef Avinash Kumar prepared an array of dishes for the patrons," says hotel's executive assistant manager Amitesh Singh.
A city bakery chose to make the occasion special by engaging children. "At our different bakeries we called children, with everyone following safety protocols, to be the part of mixing ceremony. Last year, we kept it a very low-key but this time we also organized painting contests for the kids along with the mixing ceremony. We also hosted special children from Dhristhi Samajik Sansthan for the do and it was a very fulfilling experience to make them a part of the mixing ceremony," says Vikas Malik of Danbro by Mr Brown.
After this ritual, hotels and restaurants are gearing up for other Christmas related festivities. "We did the cake-mixing with 40 regular guests and hotel staff. Now, on December 16 we will have Christmas tree lighting to kick-start festivities and selling of cakes that we have mixed during the ceremony. We have planned a gala dinner, carol sing and other events, says Naveen Tanwar, food and beverage manager at Hilton Garden Inn.
So, the stage is set in the city for the Christmas festivities!
Source: Thanks https://www.hindustantimes.com/cities/lucknow-news/ushering-in-xmas-cheer-with-cake-mixing-revelry-101638469783445.html